Ages: 3-6 years
Grades: 3-5K
Early childhood education is vital to your child's lifelong educational journey. Our Primary program, or "Children's House", provides introductions to the culture, curriculum, and skill sets that characterize education at MSC. Your child builds the foundation for future academic success, and also develops the skills of autonomy, independence, cooperation, collaboration, and flexibility.
Within our mixed-age classrooms, you'll find three, four, five & six-year-old students working both individually and collaboratively. In a three-year period, your student will experience being the novice, the apprentice, and the mentor in their community. This allows each student to learn from practicing with and teaching other students.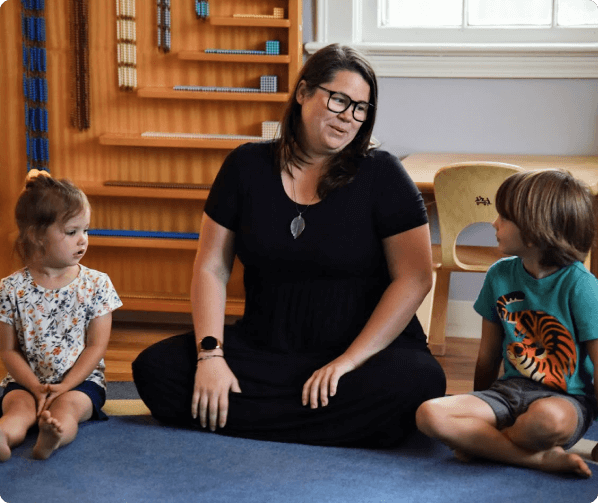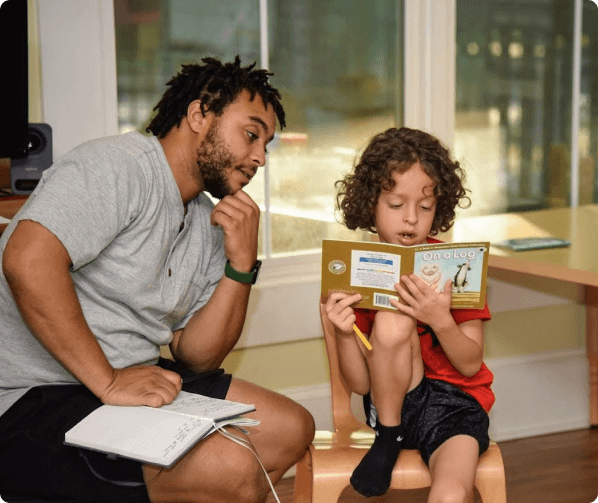 Primary Program Classrooms
Our primary classroom is uniquely suited to the needs of its students. This prepared environment is designed with low sinks, chairs, and tables; a reading corner; easy-to-reach shelves; and child-sized kitchen tools. These elements allow for true independence and help your child develop fine motor skills.
The learning environment cultivates individualization, freedom of choice, concentration, independence, problem-solving abilities, social interaction, and the development of academic skills. Children are allowed to learn through the use of concrete, hands-on materials. The environment is child-centered and orderly.
Explore One of Our
Primary Classrooms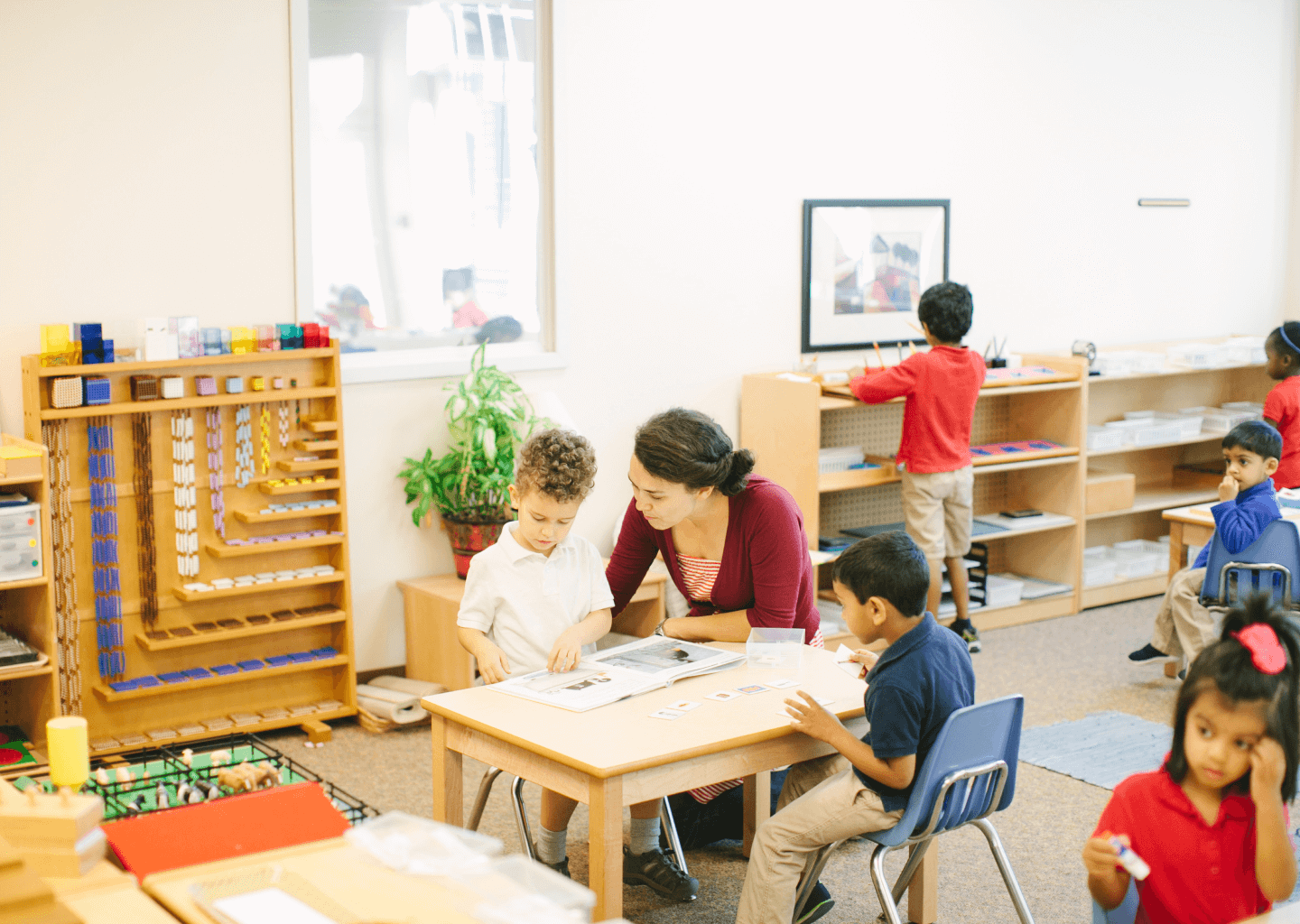 Daily Routine for ages 3-6
MSC offers a predictable primary program routine that allows your child to feel secure while also supporting their emotional, cognitive, and social development.
Like all Montessori routines, there is an amazing amount of flexibility during the Montessori work cycle to encourage independence and nurture your child's ever-changing interests and curiosities.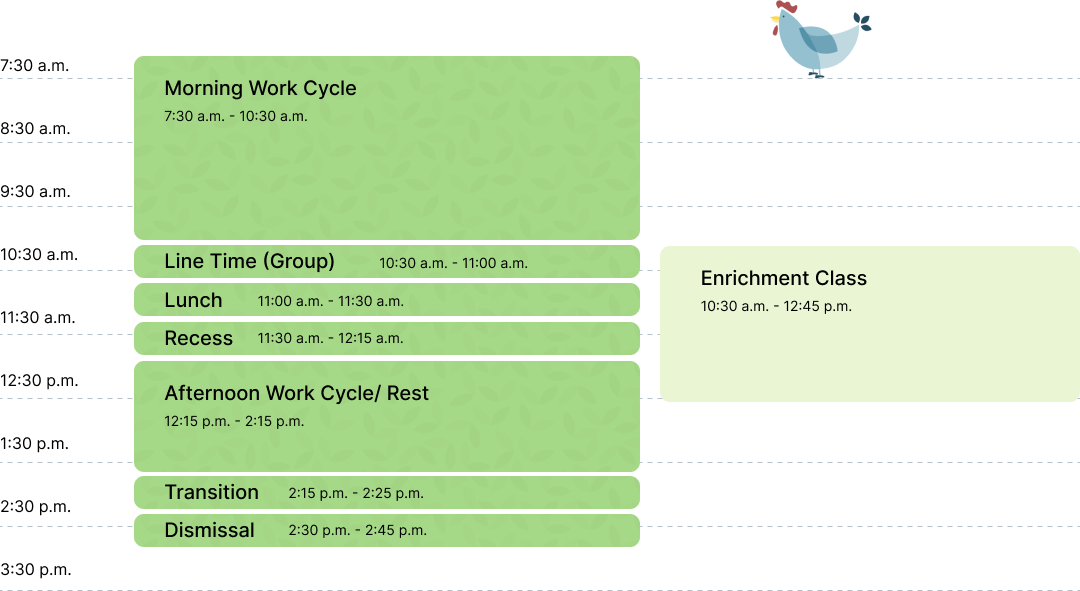 Montessori Preschool Curriculum
The Early Childhood classroom offers your child 5 areas of study: Practical Life, Sensorial, Math, Language, and Cultural Studies. What are the lessons in these areas?

Children learn daily-life skills, such as how to get dressed, prepare snacks, set the table, and care for plants and animals. They also learn appropriate social interactions, such as saying please and thank you, being kind and helpful, listening without interrupting, and resolving conflicts peacefully. In addition to teaching specific skills, Practical Life activities promote independence, and fine- and gross-motor coordination.1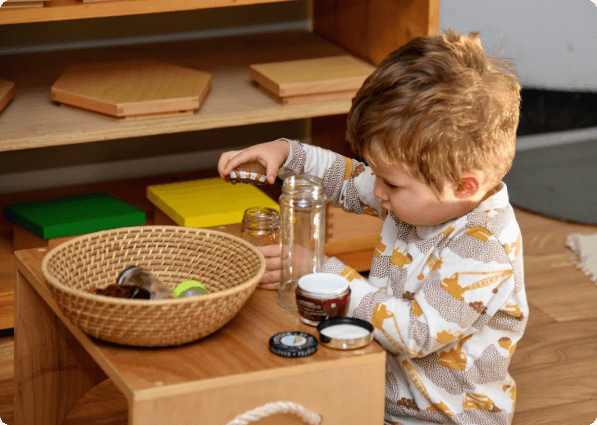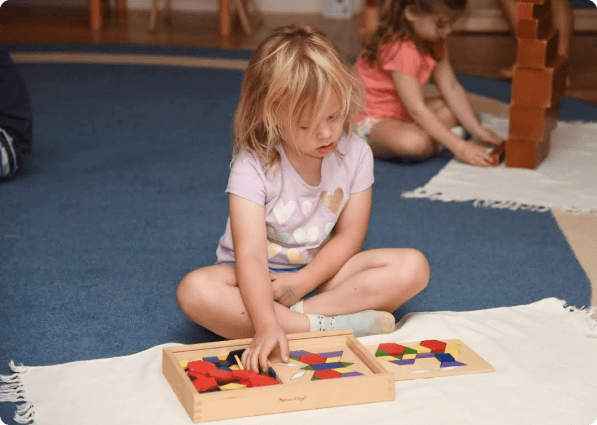 Children refine skills in perceiving the world through their different senses, and learn how to describe and name their experiences—for example, rough and smooth, perceived through touch. Sensorial learning helps children classify their surroundings and create order. It lays the foundation for learning by developing the ability to classify, sort, and discriminate—skills necessary in math, geometry, and language.1

Through hands-on activities, children learn to identify numerals and match them to their quantity, understand place-value and the base-10 system, and practice addition, subtraction, multiplication, and division. They also explore patterns in the numbering system. With an exploratory approach, children do more than just memorize math facts; they gain a firm understanding of the meaning behind them.1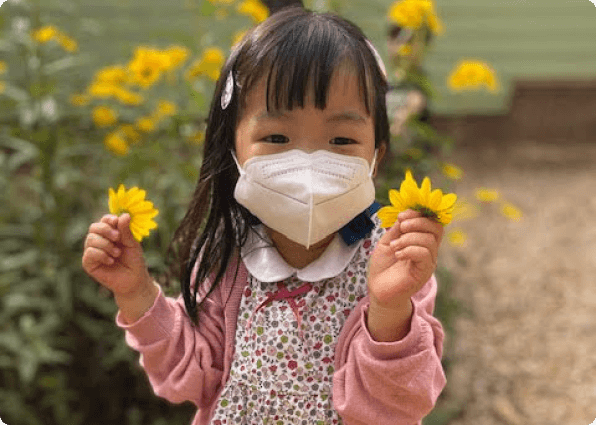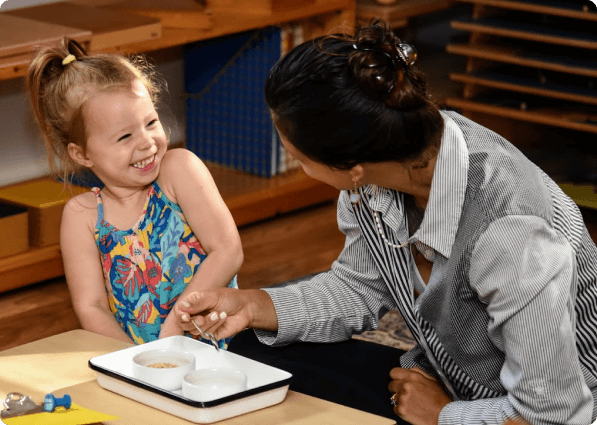 Activities throughout the Early Childhood classroom teach language, help children acquire vocabulary, and develop skills needed for writing and reading. The ability to write, a precursor to reading, is taught first. Using hands-on materials, children learn letter sounds, how to combine sounds to make words, how to build sentences, and how to use a pencil. Once these skills are acquired, children spontaneously learn to read.1

A wide range of subjects, including history, geography, science, art, and music, are integrated into lessons in the cultural area of the curriculum. Children learn about their own community and the world around them. Discovering similarities and differences among people and places helps them develop an understanding and appreciation of the diversity of our world, and a respect for all living things.1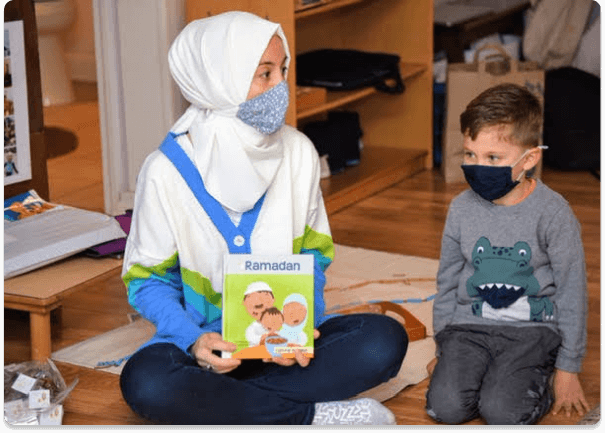 Enrichments Programs for Primary
Along with our American Montessori Society accredited curriculum, we provide your child with unique enrichment activities to further develop their appreciation and understanding of the world around them.
What Other Parents Are Saying About MSC
"I cannot express in words adequately how amazing your teachers are. I observed such grace and wisdom and kindness these past two days. You have a treasure in Mr Young. His thoughtfulness with regard to this trip and "next year's upper el class" is amazing."

"I cannot express in words adequately how amazing your teachers are. I observed such grace and wisdom and kindness these past two days. You have a treasure in Mr Young. His thoughtfulness with regard to this trip and "next year's upper el class" is amazing."
Add Your Heading Text Here



What Your Child Will Learn


Meet The Primary School Teachers
The role of a Montessori teacher at all levels is to prepare, observe, and facilitate your child's learning progress.
A Montessori Primary School teacher is a silent presenter, observer, and role model. They do not interfere with your child's work but will correct when materials are misused, social interaction is inappropriate, or behavior is unduly noisy or disturbing to the environment.
It is their privilege to enjoy the beauty in the development of your child while being aware of themselves as the "one who serves" in this process.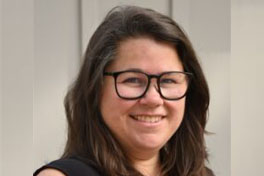 Sunshine has been working in private and public Montessori classrooms since 2012. Her career began at the Montessori School of Spartanburg where she earned a Montessori assistant training and fell in love with the pedagogy.
Thursday, August 31, 2017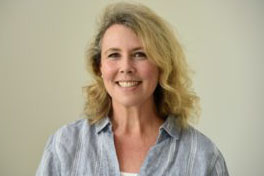 Angie received her Associate's Degree from Midlands Technical College and is currently completing her Bachelor of Arts in Behavioral Science at Columbia College.
Thursday, August 31, 2017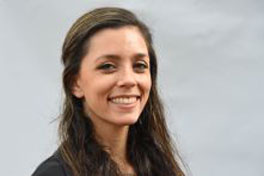 Corey earned her Bachelor's Degree in Social Science from the University of North Dakota. Since graduating in 2011, she has worked as a Montessori teaching assistant, a nanny, and a mother.
Thursday, August 31, 2017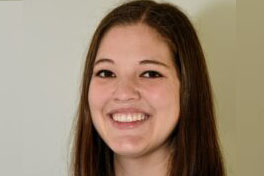 Garet joined MSC as an aftercare teacher and immediately fell in love with the Montessori method. She earned her Bachelor of Arts in Psychology and Sociology at Wake Forest University.
Assistant Teacher - Primary 1
Thursday, August 31, 2017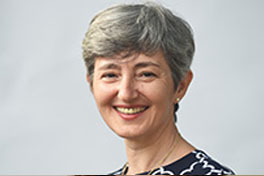 Janeta received her Bachelor's Degree in Education and Master's Degree in Pedagogy and Primary Education from the University of Sofia in her native country, Bulgaria.
Assistant Teacher - Primary 2
Thursday, August 31, 2017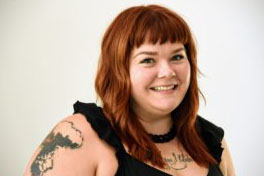 Sarah is completing her undergraduate studies in early childhood education at the University of South Carolina. She has been working at MSC since 2015 and has worked as a classroom assistant, extended-day teacher, and summer program counselor.
Assistant Teacher - Primary 3
Thursday, August 31, 2017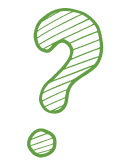 Frequently Asked Questions About Montessori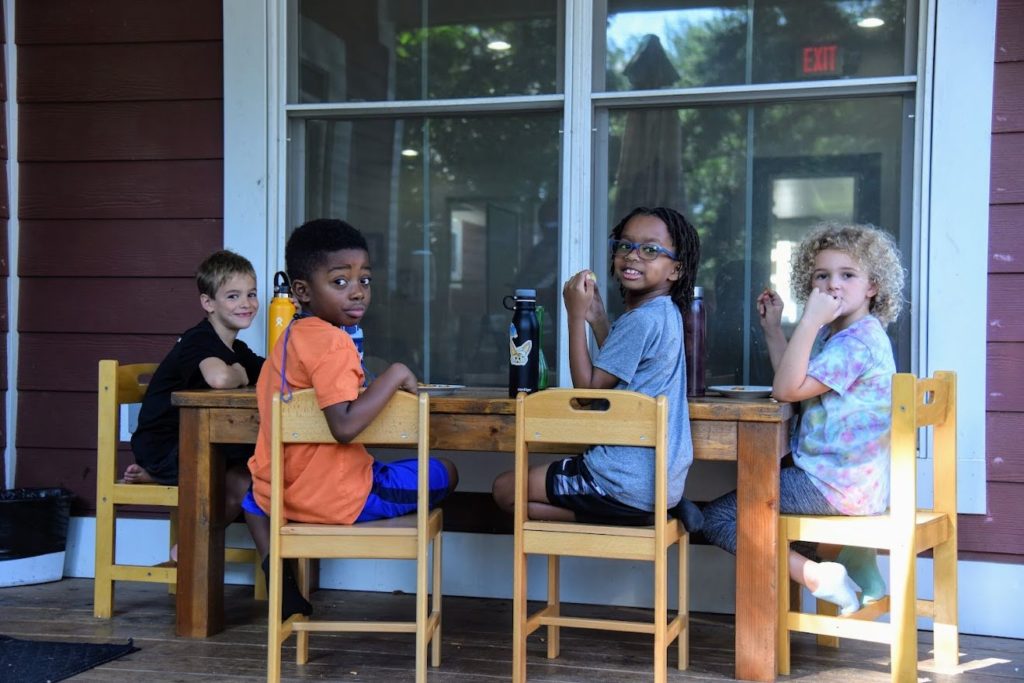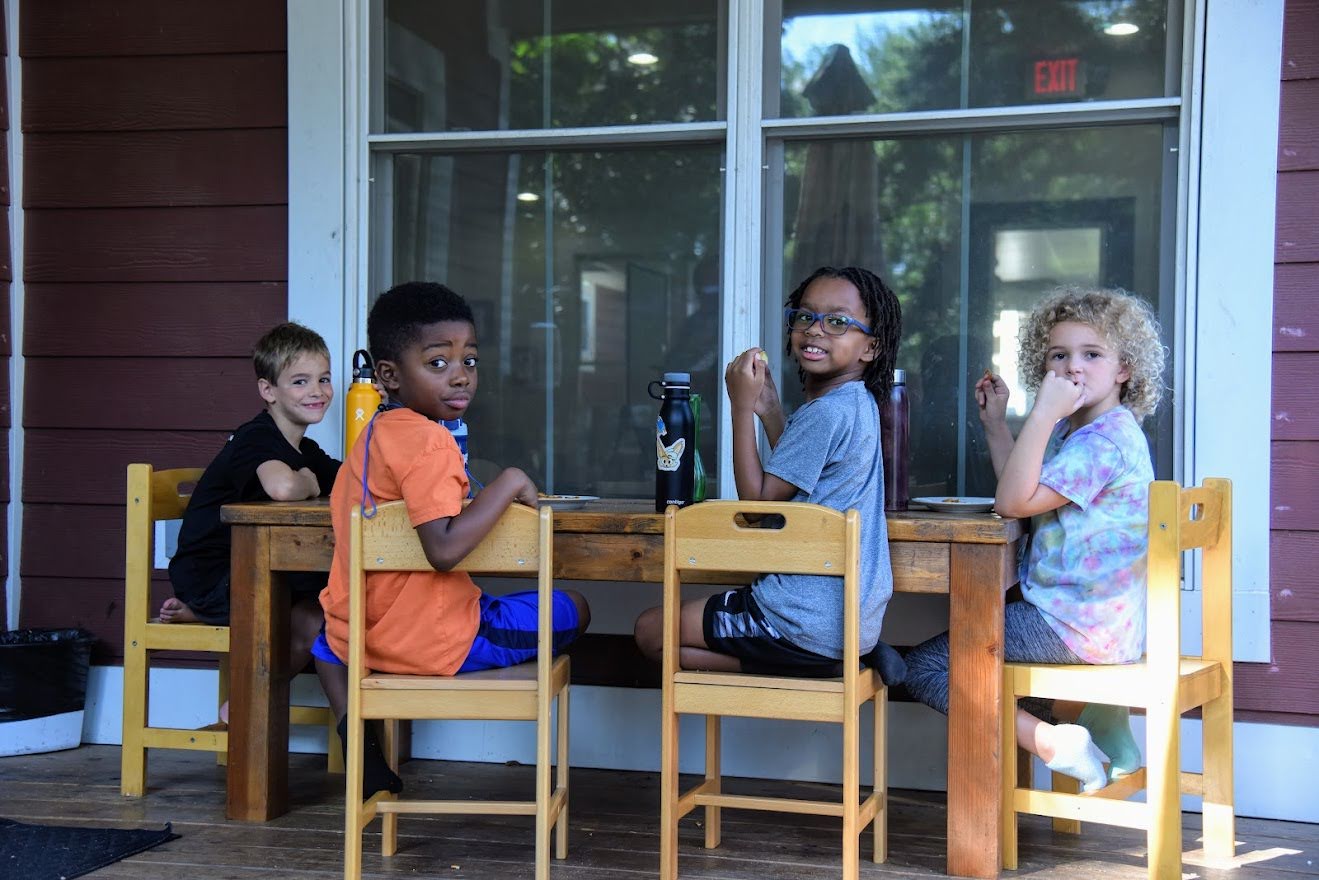 Where to Next? Lower Elementary
As a direct continuation of all of the skills a child develops in our Primary program, the Lower Elementary classroom provides a new environment in which to explore and be inspired.