Ages: 6-9 years
Grades: 1-3
As a direct continuation of all of the skills a child develops in our Primary program, the Lower Elementary classroom provides a new environment in which to explore and be inspired. The three-year development process experienced in Primary will begin again, yet with a new sense of confidence and curiosity.
Within our mixed-age classrooms, you'll find six, seven, eight & nine-year-old students working both individually and collaboratively. In a three-year period, your student will experience being the novice, the apprentice, and the mentor in their community. This allows each student to learn from practicing with and teaching other students.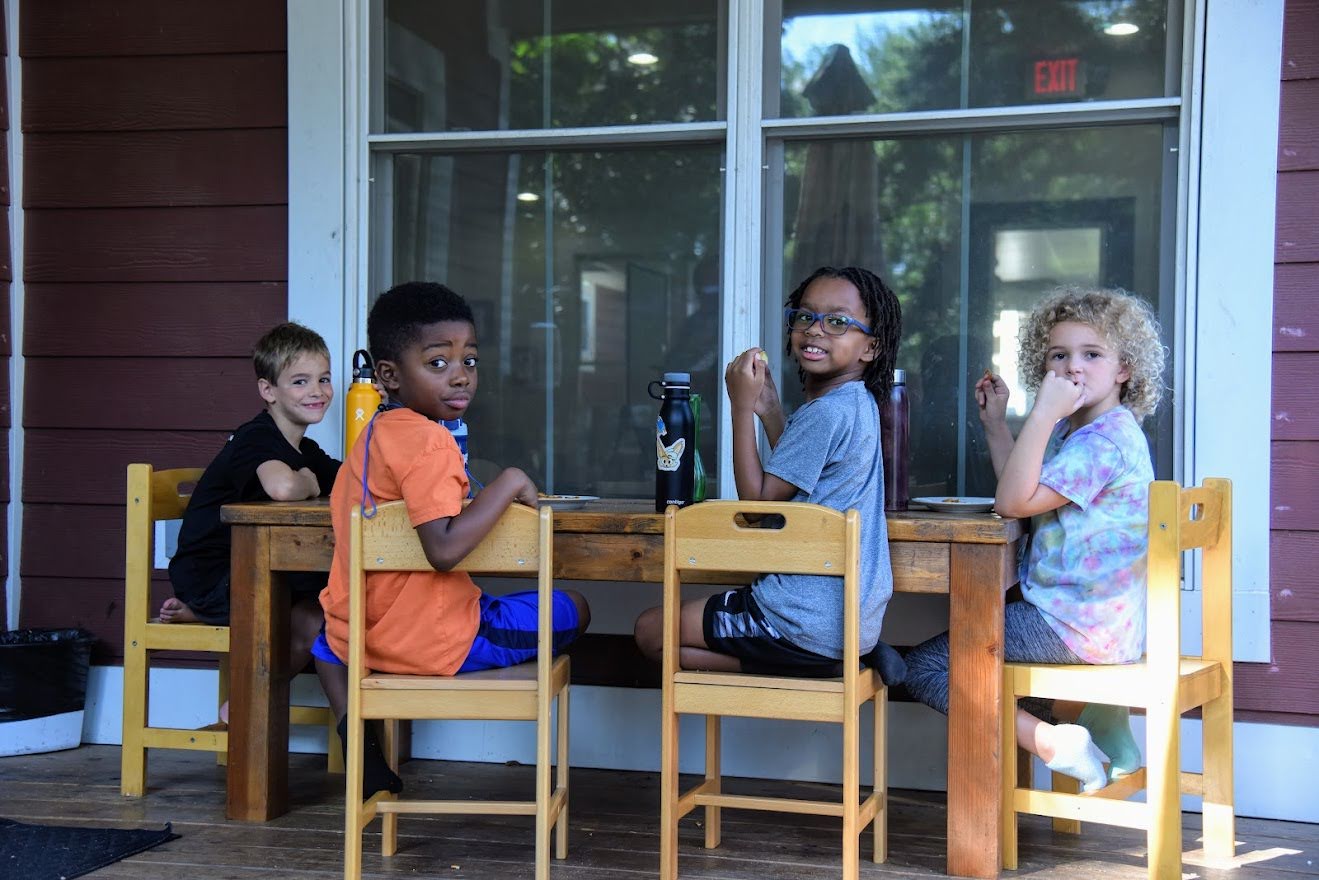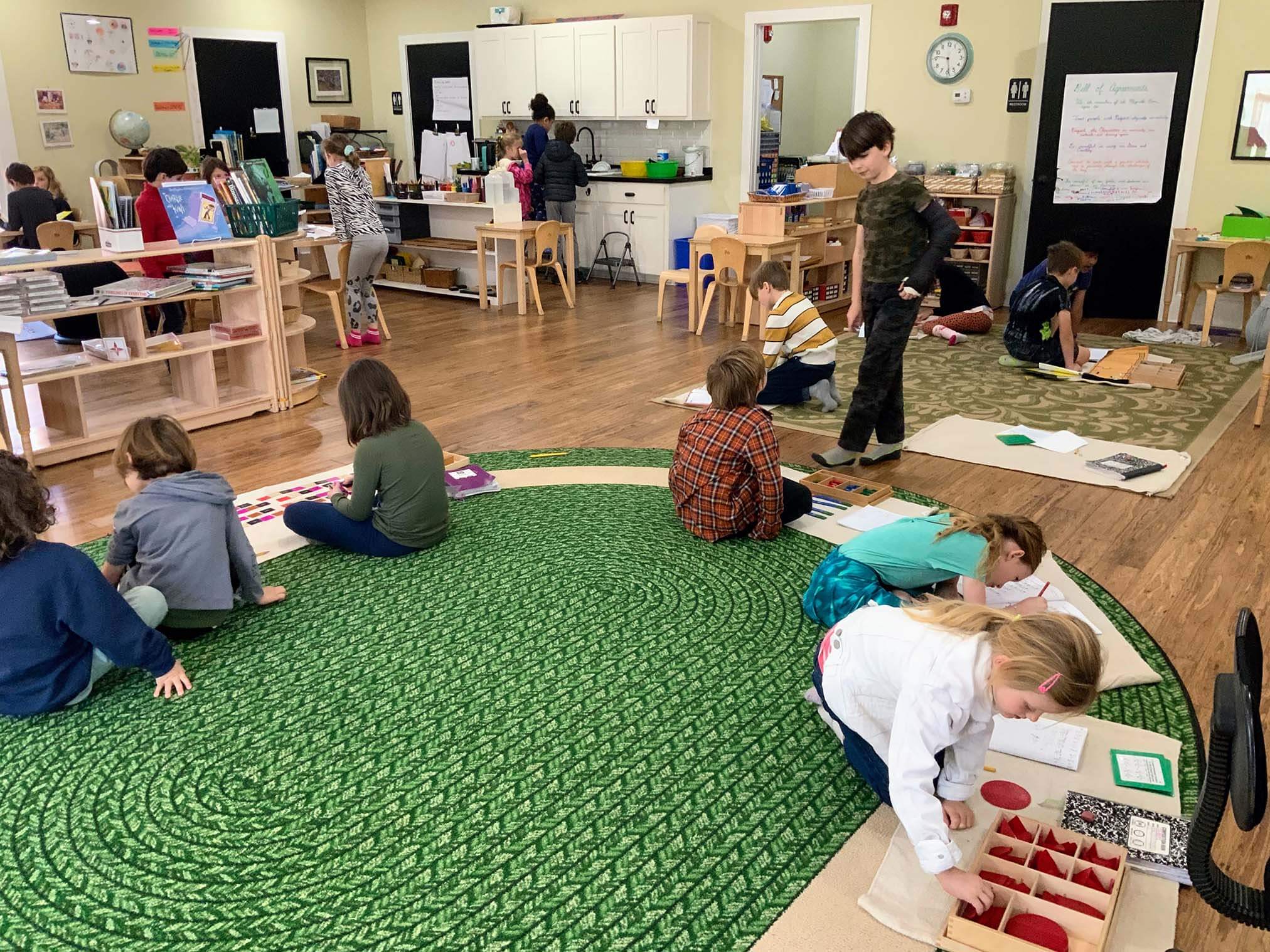 Lower Elementary Program Classrooms
Within the Lower Elementary classroom, children have the freedom to walk, stand, get a drink, have a snack, and use the bathroom, all at will, at any time they deem necessary. Teachers do not control the timing of their activities, preparing them for the reality of the unpredictable nature of life. 
The teacher presents an individualized overview plan based on the curriculum and designed according to the observation and record-keeping of each child. This individualized learning allows students to learn at their own pace and receive lessons specific to their learning style. To ensure that every child completes the full curriculum by the end of the three-year cycle, teachers spend considerable one-on-one time with each student. This flexibility and individuality are unique to Montessori elementary-aged learners.
Explore One of Our
Lower Elementary Classrooms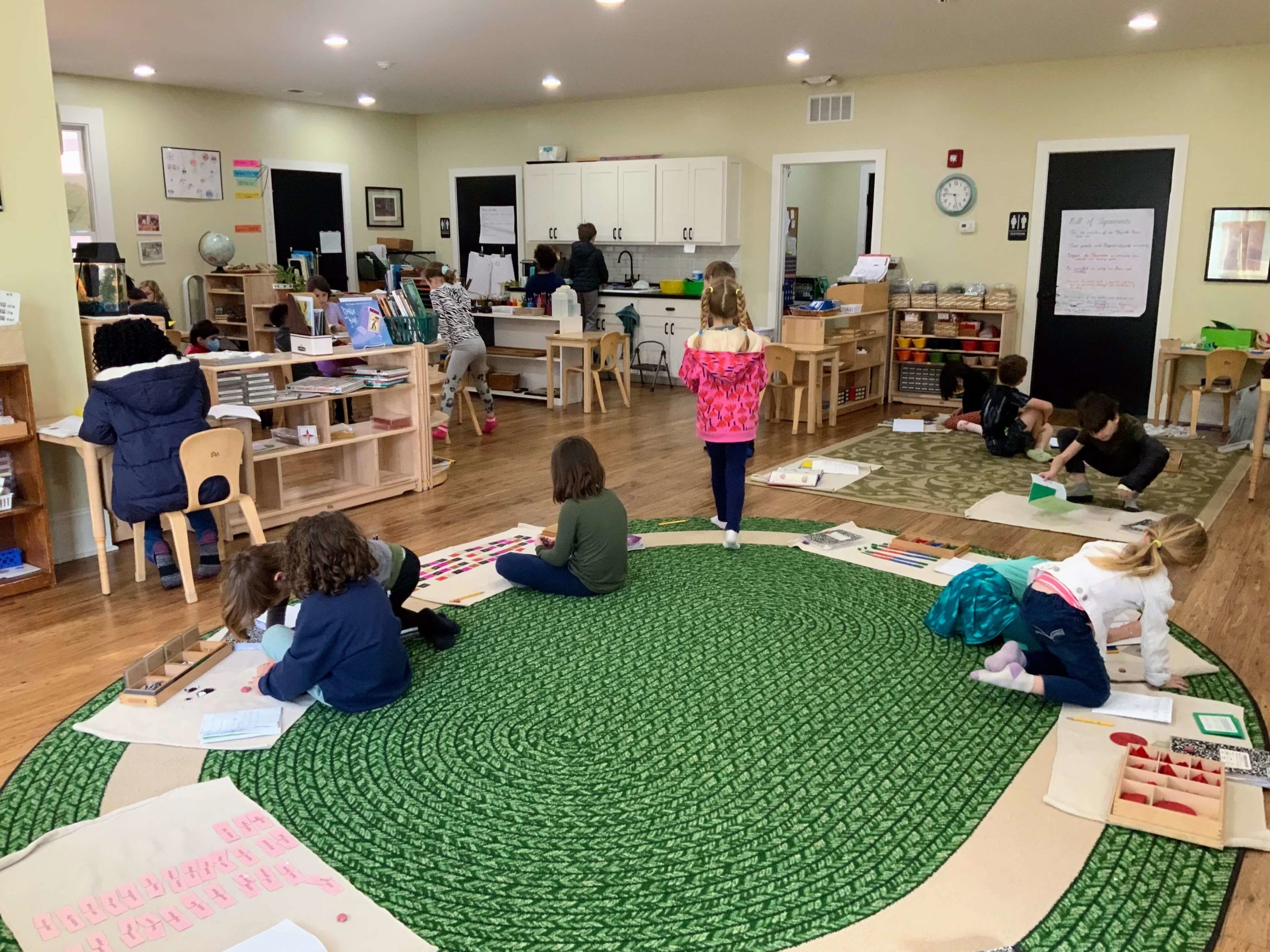 Daily Routine for ages 6-9
MSC offers a predictable lower elementary routine that allows your child to feel secure while also supporting their emotional, cognitive, and social development.
Like all Montessori routines, there is an amazing amount of flexibility during the Montessori work cycle to encourage independence and nurture your child's ever-changing interests and curiosities.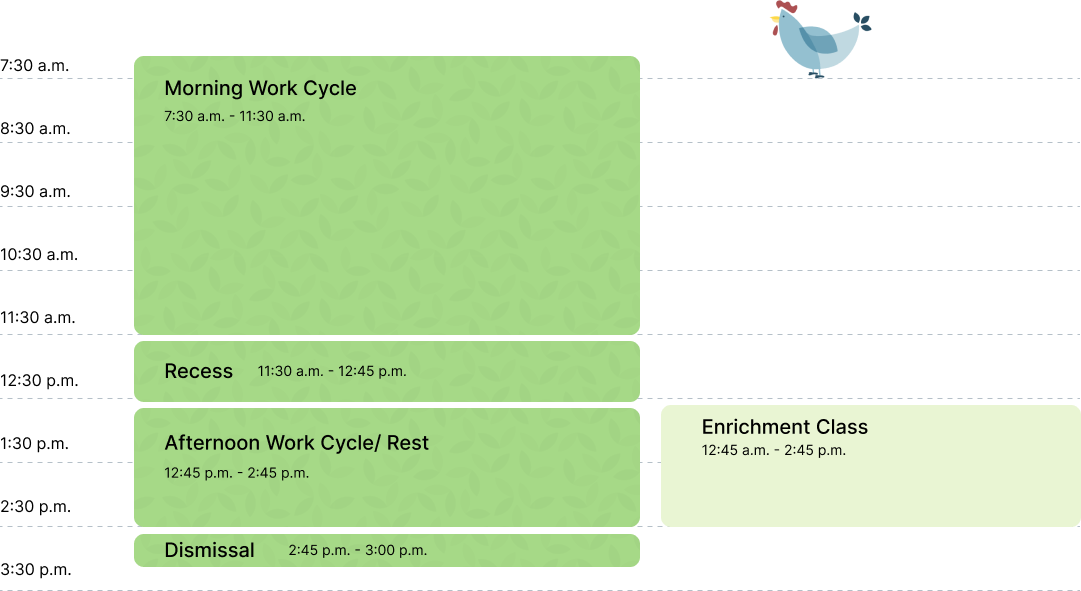 Montessori Lower Elementary Curriculum
For returning Montessori students, the Montessori Elementary program expands upon the learning fostered in an Early Childhood program. For students new to Montessori, it orients them to the joys of responsible participation.
Teachers guide children through a rigorous curriculum individually tailored to their own interests, needs, and abilities. Teachers monitor progress against established benchmarks and expectations for student learning, including: academic preparedness, independence, confidence, autonomy, intrinsic motivation, social responsibility, and global citizenship.1

Within the Elementary program, the Practical Life curriculum expands from the foundation laid in Early Childhood. Practical Life at the Elementary level shifts from a focus on self-care and fine motor skills, to skills that help children connect with their interests in the outside world, organize their time, and take part in their community.
While self-care and appropriate social interactions continue to be supported, lessons that teach responsibility are the focus. Use of tools, such as work plans, to support organization and time management skills, are incorporated into the daily routine.
Teachers and students often work together to post reminders about assignments, projects, and ideas. Using these, children make independent work choices, prioritize activities, and meet deadlines.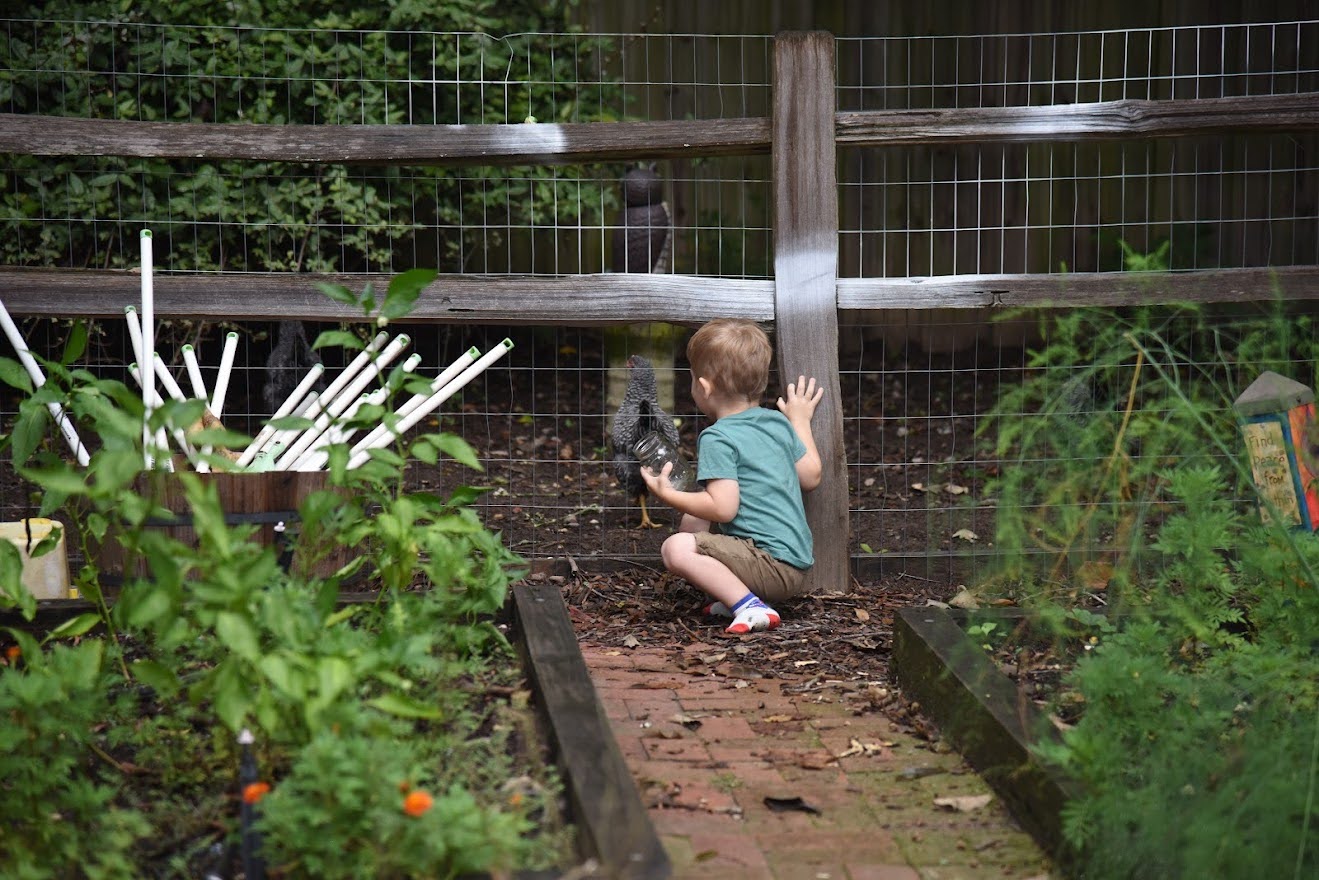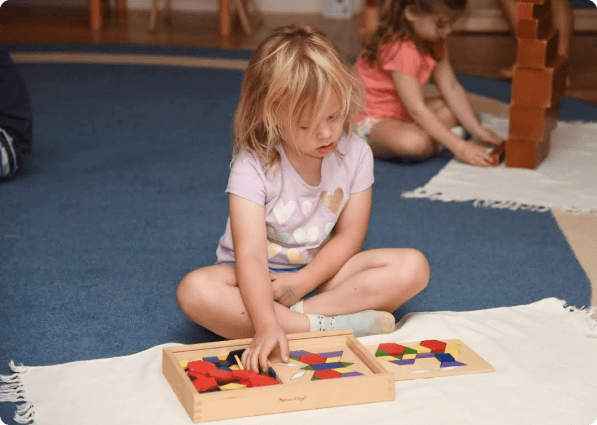 The ideas of number concepts, place value, numerals, and related quantities are reinforced and expanded upon within the Elementary program. Newfound purposes for familiar math materials provide children with the means to consider number concepts, mathematical operations, and more complex functions, helping to expand advanced mathematical knowledge and understanding.
1

Reading and writing are integral to all subjects in Montessori Elementary, as children express their interests and satisfy their curiosity. Students master conventions with thorough studies of grammar, spelling, and mechanics. They produce final copies with careful penmanship and keyboarding. They read, analyze, think critically, and compare and contrast literature to support personal opinions and perspectives. Using these reading and writing skills, they present ideas through formal and informal presentations.
1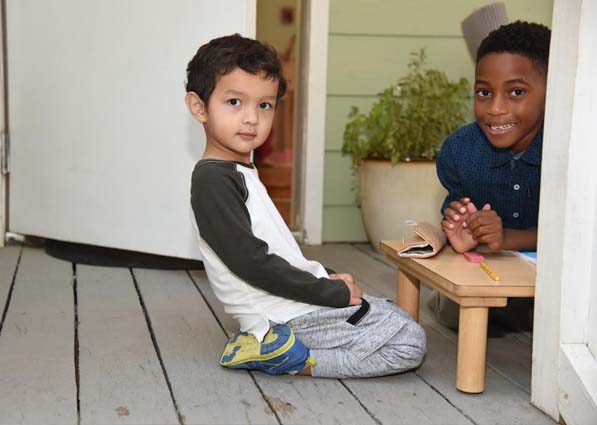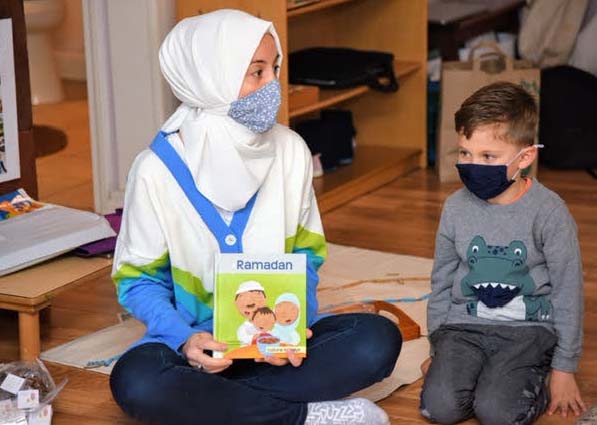 Cultural studies are interdisciplinary and integrate zoology, botany, geography, geology, physical and life sciences, and anthropology. Through these lessons, children explore the interconnectedness of all living things. Additionally, in-depth studies of history, physical and political world geography, civics, economics, peace and justice, the arts, world language, and physical education are introduced.
1

Science and Social Studies
Interdisciplinary and integrated studies of geology, geography, physical and life sciences, anthropology, and history are built around "Great Lessons," a series of dramatic stories that explore the origins of the universe, our planet, and the continuous development of human advancement. The laws of physics and chemistry reveal the interdependency of all living things. Beginning with a study of civilization, students explore the contributions of history and what it means to be a responsible citizen and to seek ways to make the world a better, more peaceful place.1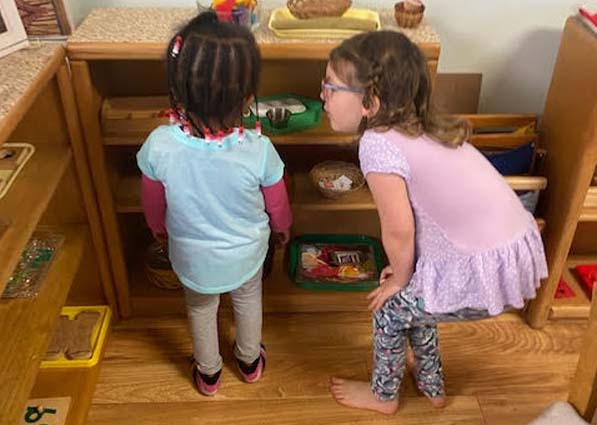 Enrichments Programs for Lower Elementary
Along with our American Montessori Society accredited curriculum, we provide your child with unique enrichment activities to further develop their appreciation and understanding of the world around them.
What Other Parents Are Saying About MSC
"I cannot express in words adequately how amazing your teachers are. I observed such grace and wisdom and kindness these past two days. You have a treasure in Mr Young. His thoughtfulness with regard to this trip and "next year's upper el class" is amazing."

"I cannot express in words adequately how amazing your teachers are. I observed such grace and wisdom and kindness these past two days. You have a treasure in Mr Young. His thoughtfulness with regard to this trip and "next year's upper el class" is amazing."
Add Your Heading Text Here



What Your Child Will Learn


Meet the Lower Elementary School Teachers
The role of a Montessori teacher at all levels is to prepare, observe, and facilitate your child's learning progress. 
A Montessori Elementary School teacher is an observer, source of inspiration, role model, and presenter to small groups. They help with social support and conflict resolution, whenever necessary and correct when materials are misused. They are now a vocal collaborator who allows your child to take part in decision-making. It is their privilege to enjoy the beauty in the development of your child while being aware of themselves as the "one who serves" in this process.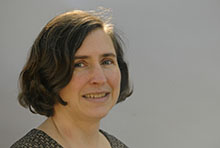 Misty graduated from USC with a Bachelor's degree in Elementary Education and returned to USC for a Master's degree in Early Childhood Special Education. She taught first grade in South Carolina for two years and spent five years teaching first and second grade in Indiana.
Thursday, August 31, 2017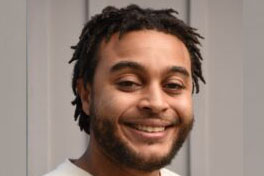 Sidney graduated with a Bachelor of Arts in Journalism from the University of South Carolina and has since worked with all age levels of our school in roles such as extended-day teacher, physical education director, and summer program counselor.
Thursday, August 31, 2017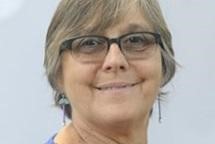 Kathy holds a Bachelor of Arts degree in journalism from the University of South Carolina. She earned her Montessori lower elementary certification at the North Carolina Center for Montessori Teacher Education.
Thursday, August 31, 2017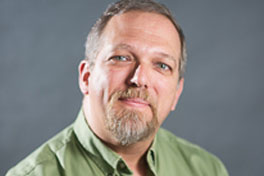 A career student, Michael has three degrees from the University of South Carolina and one degree from Lander University. He holds a Master of Education, a Master of Arts in Teaching, a Master of Public Administration, and a Bachelor of Psychology.
Thursday, August 31, 2017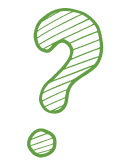 Frequently Asked Questions About Montessori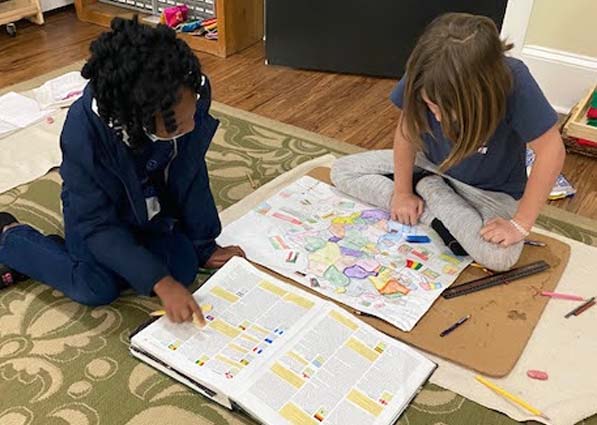 Where to Next? Upper Elementary
Students in Upper Elementary have reached an exciting time in their lives. They are making the leap to abstract thinking and they are ready for large, challenging research projects.