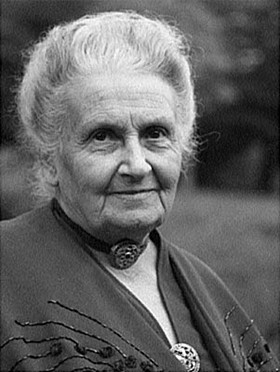 Maria Montessori, one of the first women in Italy to graduate with a degree in medicine, began her medical career as a pediatrician. As she observed children in her practice and in their natural environments, she identified sensitive periods in their lives when they were ready and able to learn specific concepts. She saw that very young children could not grasp abstract concepts but rather learned by moving from the concrete to the abstract.  She also found that students are not empty vessels who learn best by listening passively to a teacher, but instead retain more information and can apply that information more readily when they are active participants in the learning process.
From these observations, Dr. Montessori developed a method of teaching that emphasizes hands-on activities, a self-paced curriculum, and a sequential order of progression that allows children to build upon skills they master. Dr. Montessori also put into practice what educational researchers now know to be true—the more decisions students make about their work, the more motivated they are and the more ownership they take for their education.  In 1907 she opened her first school, which served children from the slums and children previously thought to be uneducable. She sought to do the impossible—teach children that society had labeled unable to learn.  In doing so, she gave the world an educational approach that is a remarkable success and continues to benefit students of all intellectual abilities.
To give students practice in making decisions, the Montessori approach allows students to choose the order in which they do their work and, within certain parameters, the focus of their studies. For instance, if upper elementary students are preparing timelines of the ancient world, one student may choose to research the Greek drama while another might focus on the Peloponnesian War. The classroom is organized so that students work independently and have individual or small group lessons. One great benefit is that students take ownership of their work, and another is that they learn time-management and self-management skills.
To ensure that students are active participants in the learning process, Montessori employs "the hand to teach the mind." What does this mean? It means that students are engaged with their hands in manipulating Montessori materials and participating in other experiential activities. For example, in the primary (preschool-kindergarten) classroom, a student arranges wooden cylinders from heaviest to lightest. This practice builds observation skills and gives the child a concrete understanding of mass.